The Curacao
Our Plans
The Curacao
2 Levels:
4 Beds:
3 Baths:
2,100 SqFt:
Master Bedroom: 1st Floor
Fireplace: 1
Porch: 2
Garage Bays: 2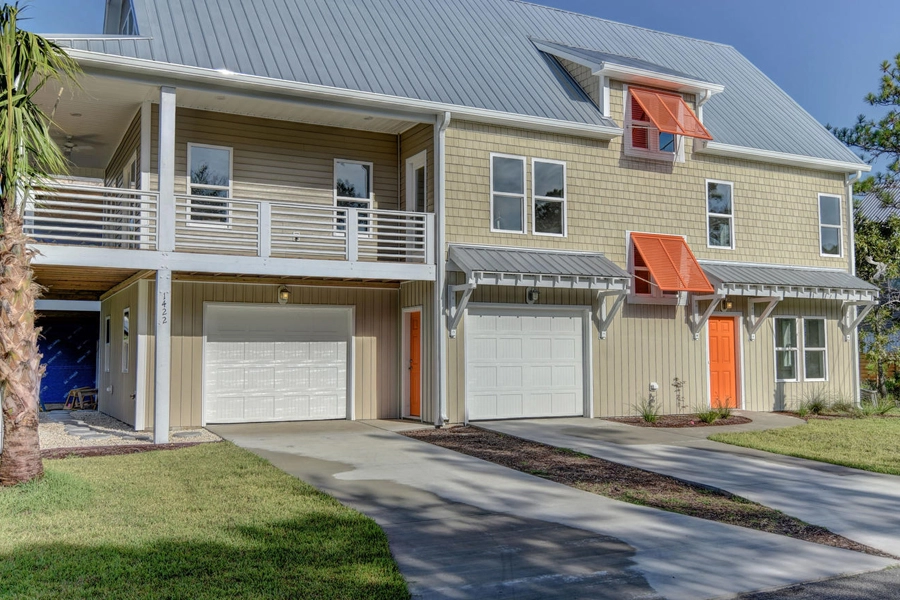 About This Home Plan
This Carolina Beach new home was designed for being built on corner lots. That is where the side entry comes in, and due to the small size of lots at the beach, it creates a larger front/side yard appearance. There is enough room in the side yard to build a pool within the Town setbacks.
The rest of the house was designed to take advantage of all the space possible, keeping the master on the main level and having an open layout for entertaining. The downstairs bonus room and bath were added after the fact, when the power company set their power pole, the guy wire ended up right where a driveway would have been for the third car garage, so we changed it to made that a massive bonus and bath. We think it actually worked out better.
This is one of 3 (4th in process) plans we have with each one having multiple options. You can view tours of them all here. If you have any questions, please feel free to contact us.
What Our Clients Are Saying
Keith our General Contractor and owner of Dutch Built Homes is one stellar guy, from beginning to the very end he kept us focused and determined. My builder is the BEST so call him for all of your construction needs!
Kelli Taylor
My experience with the owner, Keith Bloemendaal, is that he is one of the most honest and trustworthy people I know. His attention to detail and excellence is not easily matched.
Brenda McDonald
As a contractor service provider, I deal with a lot of home builders, And Mr. Bloemendaal of Dutch Built Homes is by far the most hands on contractor I've seen. Quality craftsmanship at its finest! Highly recommended.
Billy Satterfield
Excellent to work with!! Really pays attention to the details which is so important! Thank you Keith!
Jason Stanley
The purchase of a new home is one of life's biggest decisions, so it's critical to explore every option. We invite you to continue reading about our process or simply complete a contact form and one of our knowledgeable Sales Associates will contact you to answer any questions you may have.